8 Best Mesh WiFi Systems of 2022
Unlike a traditional wireless router that broadcasts a single Wi-Fi signal to your tablet, laptop, or smart home devices, a mesh Wi-Fi system leverages multiple hardware access points distributed around your home to ensure complete Wi-Fi coverage. More extensive coverage means fewer Wi-Fi dead spots!
To find the best mesh Wi-Fi system for your home network, we researched and tested the leading products on the market, and discovered the Nest WiFi (available at Amazon for $299.00) is the best mesh Wi-Fi system for your home because it is fast, flexible, and easy to set up in a two-story home. The mesh routers also have a hidden trick up their sleeve: They work as Google Assistant speakers, so they can play music or control your house by voice.
If you are looking for a cheaper alternative or want to cover a larger area, we recommend the Amazon Eero Mesh (available at Amazon).
These are the best Mesh Wi-Fi systems we tested ranked, in order:
Nest WiFi
Amazon Eero Mesh
Linksys Velop Wi-Fi 6
Netgear Orbi 6 RBK852
TP-Link Deco M9 Plus
Eero Mesh Pro
Google Wi-Fi
Netgear Orbi RBK50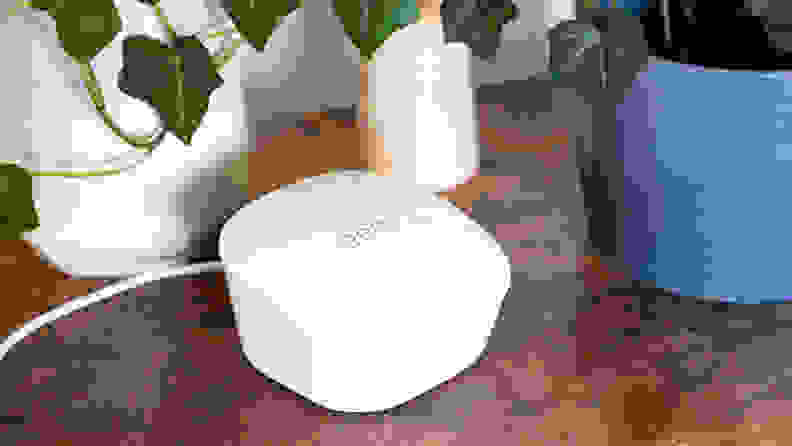 ---
Other Mesh Wi-Fi Systems We Tested
How We Test Mesh Wi-Fi Systems
The purpose of a Mesh Wi-Fi network is to extend the coverage of a Wi-Fi network by adding smaller mesh routers. By coordinating with each other, this mesh of routers creates a single network that can cover a larger area than a single one.
We installed each mesh W-Fi system in a typical two-family suburban house with a gigabit internet connection from Verizon Fios in the basement. With a conventional, single Wi-Fi router in the basement, the Wi-Fi never quite worked on the deck at the rear and on the second floor. So, we installed these mesh routers as the manufacturers recommended, putting one in the basement and one on the first floor.
Next, we tested how well the mesh worked by performing speed tests throughout the property. These tests included three Speedtest.net tests and streaming an HD video file. These tests were performed on a Dell XPS 13 laptop and a Samsung Note 10+ smartphone and were repeated in different locations and times to see how well each mesh system worked under stress.
The older products in this guide from our first round of testing were evaluated in a four-story apartment building located in a busy metropolitan area with lots of other business and home wireless networks nearby. Testing was performed on floors one, two, and three. The building is made of stone and plaster and has a lot of metal doors and fixtures—a very challenging Wi-Fi environment.
We used a Spectrum cable broadband connection with a service level of 400Mbps download speed and 20Mbps upload and our tests were monitored on a Dell Latitude 7400 2-in-1 Laptop/Tablet combo, a Samsung Galaxy S9 phone with the latest version of Android, and an LG smart TV with wireless connectivity.
What You Should Know About Mesh Routers
What is a Mesh Wi-Fi Router?
Mesh routers aren't that different from traditional routers, and if you have used the Wi-Fi at a coffee shop, airport, school, work, or hotel then you've already used one. Basically, instead of having one main router that broadcasts the signal for your entire network, it's broken up into multiple access points and (with some tri-band mesh routers) multiple bands your devices can all share.
This lets your network broadcast from multiple places, but with a single sign-on and ID. The system (and your devices) then decide which access point is best and shuffles you around accordingly, without you having to do anything. While this may seem more complicated, in practice it's much easier. Mesh routers usually have simpler screens for setting up your network, companion apps that make your initial installation a breeze, and come pre-paired out of the box.
Mesh systems are superior to Wi-Fi repeaters, which only boost the existing signal. Instead, mesh systems add new signals that spread the bandwidth further than simply boosting it.
Though there are setups where a repeater can do nearly as good of a job as a mesh system (such as if you have a low-speed internet plan or your repeater is wired directly into your router by an ethernet cable), in most cases you'll be better off with a mesh Wi-Fi system, which can give you the Wi-Fi coverage you need in a system designed to handle it.
Wi-Fi terms
The following terms are important in understanding how to choose the best mesh Wi-Fi systems for your home:
Wi-Fi 6: Released in 2019, this is the most common Wi-Fi standard next to Wi-Fi 5. The new standard increases both the amount of data that can be sent over a Wi-Fi network and the number of devices that can join a network.
The speed is increased to a theoretical maximum of 11 megabits per second (Mbps) from the 3.5Mbps of the older 802.11ac standard that most modern devices use. More devices can also be connected, which makes managing mesh networks that include large numbers of devices easier.
Dual and Tri-Band: All of the Wi-Fi mesh systems that we tested are dual-band, meaning that they support signals in the 2.4Ghz and 5.0GHz signal bands. Some of them, including the Linksys Velop, are tri-band, meaning that they also support additional signal bands in the 5.0GHz range.
That doesn't mean that you automatically get to use the extra band, though: Most Wi-Fi devices can only use the 2.4 and 5.0GHz bands. Instead, the 5.0GHz signal is used by the mesh routers to talk to each other, so they can share data without using up valuable signal space.
MIMO: Multiple In, Multiple Out. Modern routers use multiple antennas that can send and receive multiple signals at the same time. They can increase the amount of data sent when synchronized.
The amount of antennas and signals that can be sent and received at once is usually described by two numbers, which indicate how many of these synchronized signals they can send and receive.
The Eero Pro, for instance, uses 2×2 MIMO, so it can send and receive 2 signals at once. The latest Wi-Fi 6 routers expand this further with MU-MIMO (Multi-User Multi-In Multi-Out), which allows multiple users to use this technique at the same time.
How to Choose the Best Mesh Wi-Fi
How much coverage does a mesh system offer?
Mesh Wi-Fi systems are ideal for homes that are 2,000 square feet or more, especially multi-level homes. The more routers you have in your system, the larger the area you can cover; Many mesh systems can cover up to 6,000 square feet.
What kind of internet speed do you need?
There is no required internet speed for mesh systems. As long as your internet speed doesn't exceed the amount of bandwidth your router can handle, you'll be fine. For instance, if your internet speed is 400Mbps and your router can handle up to 1Gbps, you shouldn't run into any issues because the router is capable of handling all that throughput.
What generally affects internet speed once the data is flowing into your house is the number of devices connected to and actively using the same network, but a mesh system can help mitigate that.
How many ports do mesh routers have?
This depends on the mesh router or mesh system you are purchasing. Always check a device's specifications list to ensure you are buying one with enough ports for your needs. Having a couple of USB and Ethernet ports is usually more than enough for the average household.
Is It worth getting Wi-Fi 6?
One interesting thing that our tests revealed is that the long-awaited Wi-Fi 6 routers are not much faster than their older cousins. Although manufacturers tout increased speed as a reason to upgrade, we found that the Wi-Fi 6 Netgear Veloop AX10 Wi-Fi router wasn't significantly faster than the other systems.
It did have a slight edge in our tests at the longest distance between router and device, though: it achieved higher data rates at a distance of about 75 feet from the main router on the edge of the property. The difference wasn't huge, though, and the connection on the other Wi-Fi mesh routers was still very usable.
At the moment, it seems that Wi-Fi 6 is more about creating a future-proof network than a quantum leap in performance, and it isn't worth the extra cost for most users.
More Articles You Might Enjoy
---
---